Main content starts here.
Update: September 12, 2021
Cloisonné enamel - A Colorful World -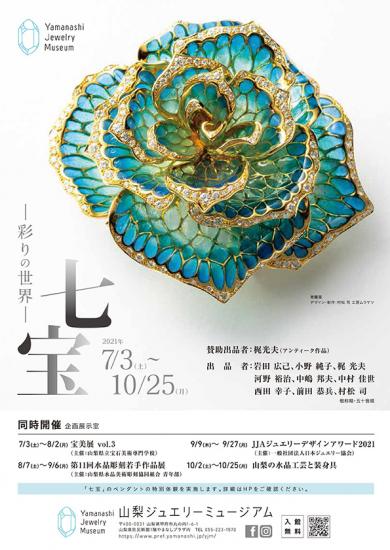 "Cloisonné enamel - A Colorful World -"
  2021.7.3~2021.10.25 (Closed from August 7th to September 12th)
  Closed: Tuesdays
Room :"Yamanashi Jewelry Today"
Outline
Cloisonné enamel refers to a brightly colored glassy glaze applied over a base metal. One type of wares you may be familiar with that is often subject to cloisonné techniques is pottery and can include both unglazed earthenware and glazed earthenware (with iron and/or aluminum).
The history of the cloisonné technique goes back many years, with garnet cloisonné pieces being seen in the Byzantine Empire, while a variety of other cloisonné techniques have been used in Limoges, France, Paris, Cologne, Germany, etc. since the 12th century.
Even in Japan, it is said that the technique crossed over from the mainland via the Silk Road during the Nara period (AD 710 to 794), and from the early 13th century to 17th-century cloisonné production began all across the country. And later by the Edo period (1603 to 1867) the name "cloisonne ware" became widespread in the late Edo period.
The golden age of cloisonné in Japan lasted during the 30 years from 1880 to 1910, and exports the country was actively exporting many cloisonné wares. However, with the aftermath of both World Wars, exports eventually declined.
Although exports have declined, the production of cloisonné wares continues and in modern days the techniques are being incorporated into jewelry to bring out an abundance of possibilities in color expression, textures, and shapes that could not be produced by jewels alone.
In today's world where machine manufacturing is being introduced to the production of items one after another, it can be said that cloisonné enamel is a crystal of beauty created by hand. Through the rare form of expression that is cloisonné enamelware, it is as if each piece directly reflects the artist's sensitivity and spirituality.
Whilst revitalizing traditional techniques, today's cloisonné enamel works are creating new values in the modern age. We hope that you will one day soon, see and feel the possibilities of cloisonne jewelry for yourself.

Works





《 Blue Rose 》
Designer: MURAMATSU Tsukasa


《 Leaf Earring 》
Artist: KONO Yuji











《 Flower 》
Artist: ONO Junko





《 BroochⅠ/Ⅱ 》
Artist: NAKAMURA Kayo