Informasi dari sini akan disajikan dalam Bahasa Inggris.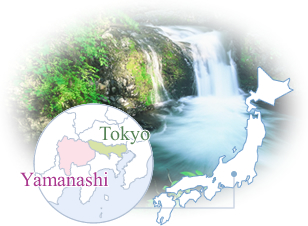 Located within two hours of the Tokyo Metropolitan Area, Yamanashi boasts fresh air, crystal clean water, and a multitude of attractions which people come to see all year round. Starting with the Fuji-Hakone-Izu National Park, Yamanashi is surrounded by four national and quasi-national parks. But the region's natural charms do not end there. Find yourself strolling along the shores of the Fuji Five Lakes, hiking along the Southern Alps, and feasting your eyes upon Yamanashi's plateaus, valleys, and lush fields of flowers. Enrich your Yamanashi experience by visiting the various museums the prefecture has to offer. Travelers can enjoy the locally grown grapes, regional wine, and relaxing hot springs. Discover history as you learn about Takeda Shingen, one of Japan's most famous feudal lords, and visit the landmarks which surround his life and legend.
On its way to establishing itself as a bustling tourist destination, Yamanashi aims to become a pilgrimage point for sightseeing and cultural exchange, and the gateway to Japan's most symbolic mountain. Come and experience Yamanashi, the Land of Mt. Fuji.